Now Free of Charge.
You read right. As of version 1.3.4, Cue Tracker is now a free download! No purchase or authorization needed; just download it from the link at right.
Why free? I've been finding as time goes on that I get much more out of hearing who's using Cue Tracker, and on what projects, than I do from any monetary income. So it made sense to make it available to as many people as possible, and the best way to do that is to stop charging for it!
What's the catch?
No catch. Development work is still ongoing, and I will still offer support. The only payment I ask is that you e-mail me your feedback and stories, and of course help Cue Tracker spread!
Special Thanks
I owe a great debt to everyone who has purchased Cue Tracker in the past; your support has made its development possible. Likewise to everyone who has submitted bug reports, feature requests, and any other ideas for how to make Cue Tracker even better. Thank you!! (And keep 'em coming!)
—Sean
Reliability meets flexibility.
Built on Mac OS X's cutting-edge Core Data technology, Cue Tracker provides an indispensable single point of reference for the score composer, music editor, and others. Managing cues has never been easier or faster.
More than just cue-by-cue.
Scores these days aren't limited to one pass per cue—you deal with overdubs all the time, not to mention multiple versions of the same cue. So why shouldn't your cue management software deal with them too? Cue Tracker not only keeps track of your regular cues, but stores overdubs and previous versions in a convenient, collapsible tree structure. They're there if you need them, but hidden if you don't.
Fully customizable reports.
With Cue Tracker, you're not just limited to printing what you see on the screen. Using HTML files with custom CRML (Cue Report Markup Language) tags, you can customize reports however you want—the only limit is yourself. Of course, Cue Tracker has several useful templates built in: spotting notes, cue status report, take log, mix log, and cue sheet. Print any of these reports, or your own, or save as PDF, HTML, or RTF.
Cue Tracker also doesn't limit what you can choose to see on the screen. A music supervisor probably doesn't need to see which score cues need revision, for example. So you choose which columns you want to see in the main window. (The other information is still there, just hidden). Need a list of all approved cues? Just sort by approval! Sorting by any column is as simple as a single mouse click.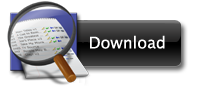 version 1.3.4
System Requirements
Mac OS X 10.4.x or 10.5.x
No third-party applications needed!
Feature Highlights
Unlimited cues, unlimited reels
Drag and drop audio previews in multiple formats
Drag and drop people from Address Book
... and store their contact info
Unlimited composers and publishers per cue
Unlimited, completely customizable, orchestras
Save reusable preset orchestras
Optional labels for each reel of picture
Highly customizable reports
... and more ...
Planned Future Features
Sync to server - for real-time collaboration